Makro, the world's largest ride-hail service, has a human resources problem. A gunman is methodically murdering their drivers in Chicago.
Det. Mark Bergman is dealing with core competency and personal fulfillment issues: His recently acquired celebrity status as the city's most lethal cop is messing with his work, and his recently acquired love life is a transatlantic disaster.
Meanwhile, the American Gun Association is having no problems at all. They're funding a flashy multimedia campaign to eliminate Illinois' handgun permit restrictions, and it's working perfectly.
Then there's the racist militia, a paranoid snitch, a tense fundraiser at the Lyric Opera and Liechtenstein's banking regulations.
A tech-driven crime fiction romp through the Windy City."
Another bullseye for Lenny Kleinfeld. He targets celebrity culture and the gun lobby with a lethal weapon: his wit… So good, so mordant, so wildly imaginative that you don't want these cops to get their man a moment too soon."
A damned good read. This latest Kleinfeld spectacle is no less a clever, culturally aware, and entertaining adventure than the first two tales about Bergman and Doonie. But the game's been upped a bit here, too. As in, this latest one grabs you by the shirtfront and drags you through its dark and increasingly blood-spattered shenanigans like something engineered for max adrenaline and engagement. Read whole review
Great work… This might be what Mark Twain would sound like if he wrote crime."
This is a Chicago noir: smart, edgy and profane. Author Lenny Kleinfeld brings together a smart cop, a sleazy art dealer, outlandish artists, and a hilariously stupid knuckle-breaker (and the capo who hates him) in a rollicking caper that you constantly think you've got figured out until you don't. This book is fun. Loads of fun. (NPR's Guide To 2014's Great Reads)
Thriller of the Month, July 2014 — Chicago homicide detectives Mark Bergman and John Dunegan return to investigate the murder of a renowned painter. There are cops, a psychotically brilliant business plan, dead artists, living artists, mobsters, an upstart FBI agent, corrupt officials walking City Hall, and an art dealer with skin a curiously Dorian shade of Gray.
 Set in modern-day Chicago, Kleinfeld's style is slick and playful. The comedy is black and funny, the pace fast. His writing is cinematically visual. He captures in print what the Coen brothers do so brilliantly with their heightened realities on screen. Think plot-driven Tarantino, or The Godfather with wit. (Sophie Scott, e-thriller.com)
"Some Dead Genius is exceptional… continuing Lenny Kleinfeld's romp through Chicago's dark side that began in Shooters and Chasers. Again Kleinfeld takes readers to the edge of believability — this time through the art world — but manages to deliver the one-two punch of dark humor and beautiful prose that only an exceptional crime novel set in Chicago can manage. I recommend it highly."
"A stellar novel with creative flair… Exquisite writing, subtle humor and plenty of adventure."
"Clever, well-paced plot and terrifically real characters… A sharp insider's look at the urban art scene, and an especially addictive narrative voice… One thing more to point out while recommending the hell out of this book: The humanity of it. And that is so refreshing in a Gritty Urban Detective Yarn." (Full review here)
"Lenny Kleinfeld has now written two of the funniest mysteries I've ever read. But more than funny, both books are tight, fast-paced, well-crafted crime fiction."
In Kleinfeld's spellbinding debut, a young Chicago cop chases a pair of killers-for-hire who are also star-crossed lovers… Appealing heroes and villains, a quirky love story, wit, style, suspense, plus all the authenticity of an Ed McBain procedural. Lose yourself in it. (Kirkus Reviews)
When prominent Chicago architect Wilson Willetts is murdered by an inept assassin who is nabbed with indecent haste, detective Mark Bergman and his grizzled mentor/partner John Dunegan are suspicious that the case is so impeccably neat. Soon, they find themselves awash in hidden, homicidal agendas, as they pursue professional killer Arthur Reid and his alluring, adoring apprentice Dina Velaros, who have framed feckless Emilio Jesus Garcia, and are planning a sybaritic retirement in winemaking country.
"Dazzling debut! In addition to a smooth prose style and a great sense of humor, Kleinfeld is terrific at depicting relationships — the people in this impressive first novel come to vivid life."
"More intoxicating than a blue martini in a Bucktown dive, and a lot harder to put down. A hip, hard-boiled, hilarious cop chase with an indelible ensemble cast. Congratulations, Lenny Kleinfeld. Make the next one a double."
"Smart, intriguing and very funny… A page-turner that never disappoints."
"A fine, fine, fine book all of you should have who like mystery and Chicago. Lenny Kleinfeld has a real sense of place. And I've known a lot of Chicago cops — he really gets these guys."
"More twists and turns than a rollercoaster at Six Flags. Call my agent… I want to be in the movie."
— William Petersen, Actor & Executive Producer, CSI
About Lenny
Lenny Kleinfeld's first novel, Shooters and Chasers, was called "A spellbinding debut" by Kirkus Reviews.
His second novel, Some Dead Genius, was one of National Public Radio's Best Books of 2014, and named Thriller of the Month by e‑Thriller.com.
Back before he was spellbinding, he was a playwright in Chicago and a columnist for Chicago magazine. His fiction, articles, humor and reviews have appeared in Playboy, Galaxy, Oui, The Reader, Chicago Tribune, The New York Times, and Los Angeles Times. According to a reliable rumor he also spent fifteen years writing screenplays.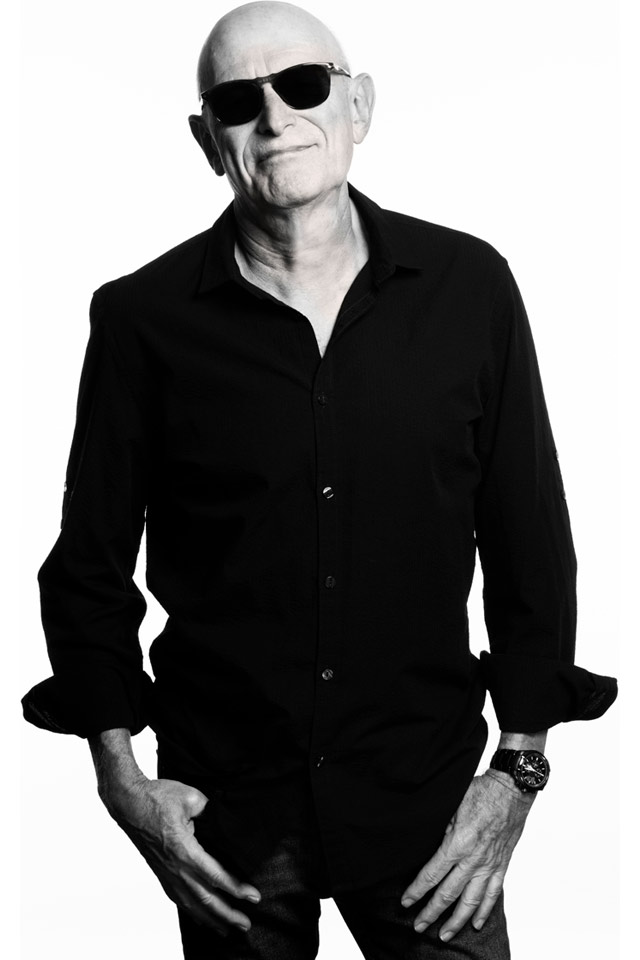 Photo by Jennifer Cawley.